Arlind Zeqiri, M.A.
Business Development Director (LGP Group), Managing Partner at LGP Lawyers Turkey, UAE & LANSKY, GANZGER, ZEQIRI & Partner Skopje DOO
+
With ARLIND ZEQIRI, M.A., former Minister for Foreign Investments of the Republic of North Macedonia, LGP has won a renowned expert for economic policy in South-East Europe. As member of the government, he acted at the strategic interface between local companies, potential foreign investors, and government agencies. His main areas of expertise are development and implementation of investment promotion strategies, regional development, economic systems of the European Union, environmental policy, economic diplomacy, economic reforms. His expertise is reinforced by the versatile skillset providing a long-standing and successful relationships with key clients. He also enjoys significant, active, and current expertise in advising clients in business legal issues, well applied in a wide array of jurisdictions.
Arlind`s practice specializes in real estate and construction, energy, mining, mergers & acquisitions, and as part of LGP Skopje, he was involved in several big scale projects in the SEE region, acting as a lead or specialty counsel in large numbers of cross-border and domestic transactions, connecting developers, landers, investors, and authorities. He had the leading role in the acquisition process of three of the largest mines, located in Albania, Kosovo, and Bosnia & Herzegovina.
Lately his practice is focused on energy, where he covers the full spectrum of the industry from conventional generation and renewables through to hydrogen, and energy infrastructure.
Besides mining and energy, Arlind has also vast experience in the construction sector, as well as in the automotive industry, telecommunications, ICT, finance, and insurance, etc.
Arlind Zeqiri's professional career has led him from the State University of Tetovo (North Macedonia) to the North-West Chamber of Commerce of the Republic of North Macedonia, the Agency for Foreign Direct Investment and Export Promotion of the Republic of North Macedonia - Invest in Macedonia (in Bern, Switzerland) and then to the top of the Ministry for Foreign Investments of the Republic of North Macedonia. At the beginning of his career, Arlind Zeqiri was active as a consultant for regional development and international investments in Germany and Austria.
Arlind Zeqiri completed his law studies at the Southeast Europe University (SEE) in Macedonia (BSc) and Diplomacy and Strategic Studies at the International University of Vienna (M.A.). He has been admitted to the bar in Skopje since December 2012.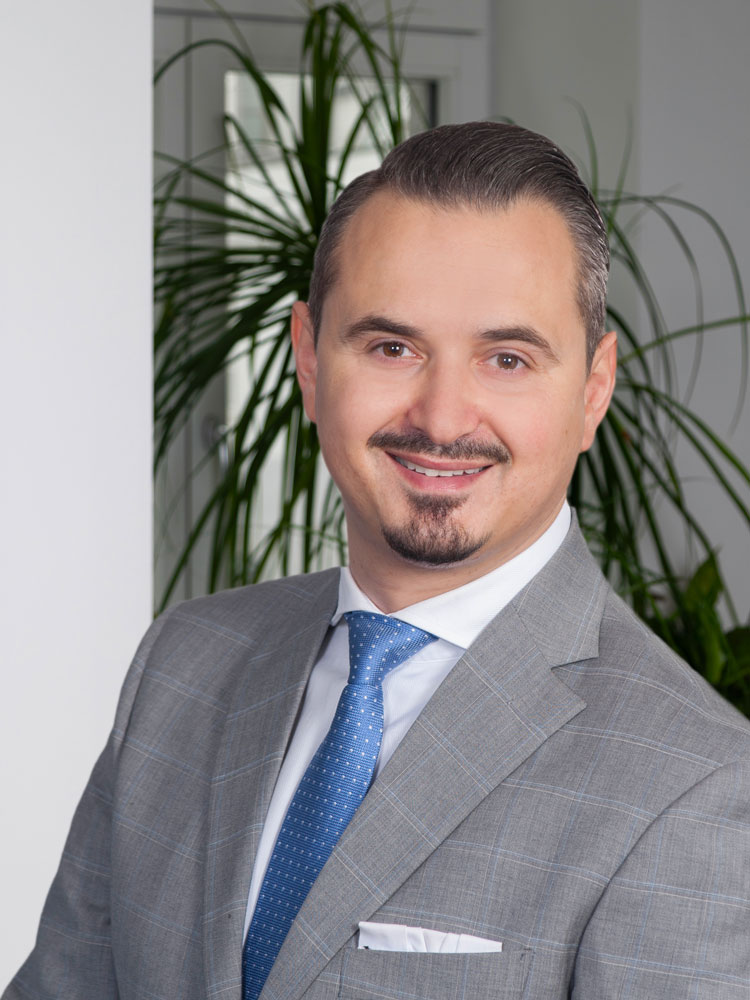 Job description:
Business Development Director (LGP Group), Managing Partner at LGP Lawyers Turkey, UAE & LANSKY, GANZGER, ZEQIRI & Partner Skopje DOO
Correspondence:
Turkish

,

Serbian

,

Macedonian

,

Croatian

,

Bosnian

,

Albanian

,

German

,

English

,
12/2012 Bar exam (Skopje, North Macedonia)
10/2002 – 05/2007 South East European University Tetovo, diploma in law with specialisation in criminal law, human rights, international law, European Union law, international criminal law
09/2010 – 05/2011 John Naisbitt University Belgrade (Univerzitet Megatrend), master's degree in macroeconomics and regional economics, with a focus on European Union economies, environmental policy, economic diplomacy
03/2007 – 05/2010 International University Vienna (IU), master's program
05/2016 – 06/2017 Government of the Republic of North Macedonia, Minister for Foreign Investments:

Acted as strategic interface between domestic companies, potential foreign investors, and public authorities
Developed and implemented strategies to promote investments
Supported foreign investors during investment phase and approval procedures
Promoted the image of Macedonia as business location
Promoted reforms aimed at further developing an investor-friendly environment09/2013–05/2016 Agency for Foreign Direct Investment and Export Promotion of the Republic of Macedonia, Head of the International Office in Bern (Switzerland)
04/2012 – 09/2013 Agency for Regional Development Tetovo, Economic Chamber of North-West Macedonia, Head of the Office
04/2012 – 09/2013 State University of Tetovo, teaching assistant specialising in private international law, international law, political systems, international organisations, development policies and economy
03/2012 – 09/2013 LANSKY, GANZGER + partner, Regional Manager Macedonia
03/2011 – 09/2013 König Rechtsanwälte, Regional Manager SEE
06/2007 – 04/2012 Consultant for regional economic development and foreign investment in Germany and Austria (DIWI Consult International), intern at the OSCE Secretariat and the Embassy of the Republic of Macedonia in Vienna